What People Are Saying About DogWatch of Susquehanna Valley
The Pieters & Capt. Jack Sparrow
We love our dogwatch system almost as much as we love Jack! Thanks!
We want to hear from you! Write us a review on Google+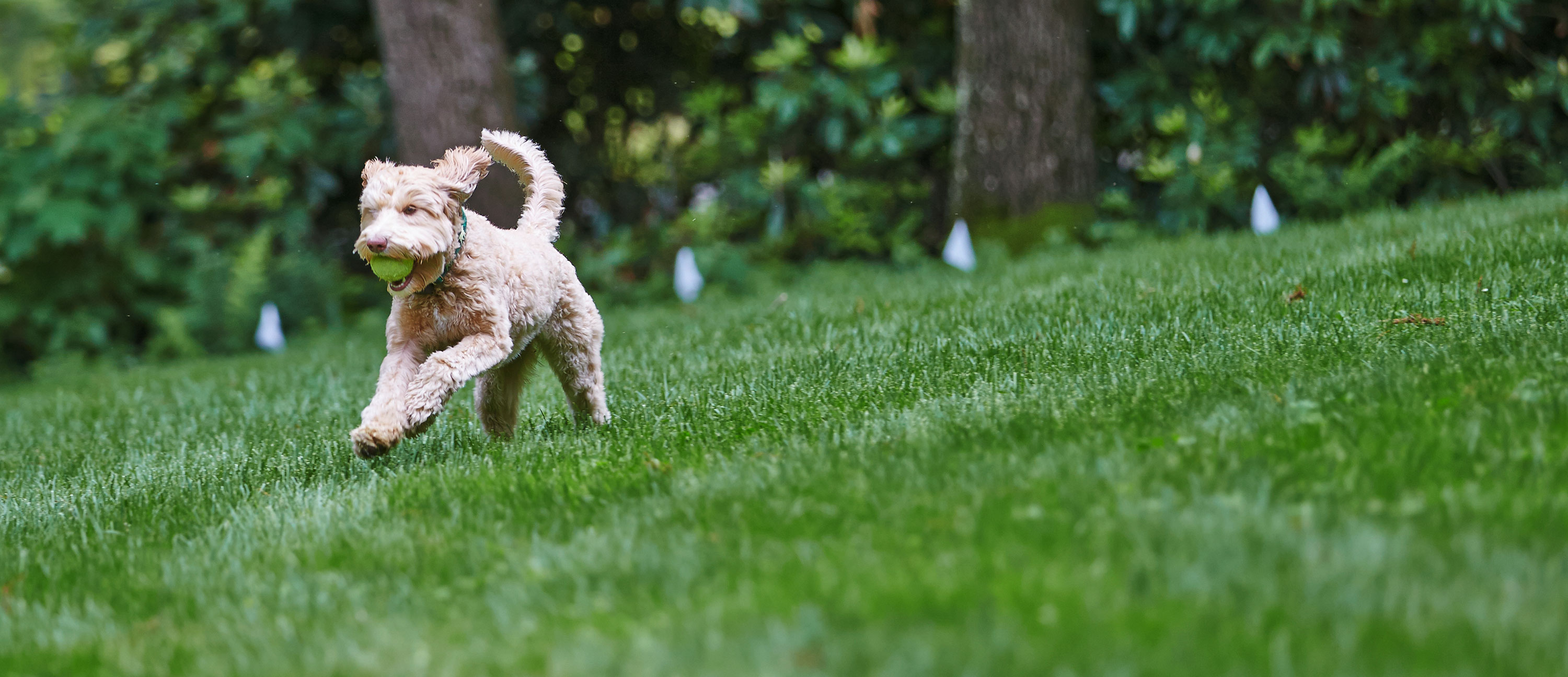 Dr. Andrew Sloyer
Neffsville Veterinary Clinic
I personally use a dogwatch hidden fence...

I personally and professionally believe in this system because it saves pet's lives. As a veterinarian, there is nothing worse for me than not being able to save a client's pet after it has been hit by a car.

DogWatch offers superior technology - the newest in the industry, and at a reasonable price. Just as importantly, I receive prompt and excellent service from Bob and Lynne Leed at Dogwatch of Susquehanna Valley.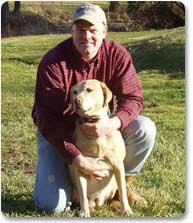 Dr's. Steven and Debra Gloates
Vetcetera Pet Healthcare Centre
When we adopted our now eight-year old black lab mix we all had some major adjustments to make. Chance had been through three homes prior to ours and each time was given up due to high energy level, some destructive behaviors, frequently running away and mild separation anxiety.

Labs are naturally high energy. If they aren't allowed to use their energy in constructive ways they develop destructive behaviors e.g. eating the couch. Dogs with this much energy require regular exercise. Sometimes it is hard to leash walk enough energy off to keep their behavior in check. While I still recommend leash walking the Dogwatch product is an excellent tool to increase exercise. In our case, it allowed us the freedom of having our pet spend time with the family in the yard without a leash.

Prior to moving to Lancaster County we used a competitor's fence. Too many times we found our dog wondering over the fence line due to a dead battery. The battery had to be replaced quarterly and we would often forget. In addition, the batteries were very costly. Now that we are using Dog Watch, we have the confidence and comfort of the one year battery. The competitor's fence was adjustable but we had to call a technician out to the house to do it. With Dogwatch we can make adjustments ourselves. This option came is handy one day when she ran through the fence. We made a simple adjustment and it has not happened again.

Thanks to Dogwatch we enjoy more quality time with our dog. She can be an active part of our family. She can be with us outside and we are confident that she will not run away. She gets more exercise and as a result lives a healthier life and her behavior is vastly improved.
We are very thankful for and highly recommend Dogwatch!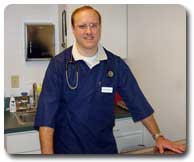 Dr. Schmidt
Veterinarian at Patton Veterinarian Hospital

Dr. Frank Abel
Willow Run Veterinary Clinic
We endorse and recommend DogWatch Hidden Fence Systems to our clients. We feel they have the newest patented technology available on the market. This ensures secure and safe pet containment for all pets.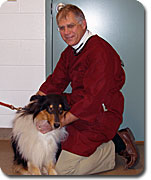 Dr. Steve Young
Willow Street Animal Hospital
I recommend DogWatch Hidden Fence Systems to all of our customers. DogWatch is the safest system with the most innovative advancements. I am glad to endorse this product.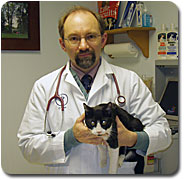 Dr. Mark Pautler
Brownstown Animal Hospital
I personally love my DogWatch Hidden Fence System. We keep our golden retriever maggie safe at home with DogWatch. This system represents the newest technology available today and coupled with the safety it provides I always recommend DogWatch to my clients and their pets.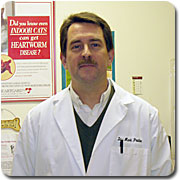 Dr. John Champagne
Veterinary for Smoketown Veterinary Hospital
DogWatch provides a quality product that is easy to use and works great. Our two Boxers learned easily and quickly where the boundaries are and we have had no problem with them running through the fence even when the neighbor's labs come to play. I like this product better than a traditional fence because our Boxers are much happier and content seeing the world go around outside and they don't bark or dig like they did when they were inside a traditional fence. We feel confident that our pet's are safe inside the fence where they can run and play unencumbered on our 1 acre lot. Not only do you have a quality product but great service as well!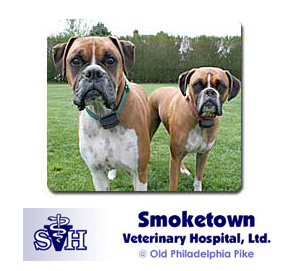 Debbie Blanshine – Veterinary Technician
Animal Hospital of Willow Street
Micah loves his Dog Watch Fence!! He was rescued just before he turned a year old and enjoys a new life. Australian Cattle Dogs are notorious for their energy as a working breed. This made a fence necessary to accommodate him. Now he just loves to run off his energy around the yard. He has freedom to chase his ball and do a bit of mock herding. But with his collar, he stays inside his yard. I feel much better knowing that Micah will stay safely away from the street. I recommend the Dog Watch Fence system to anyone who has or is considering adding a dog to their family!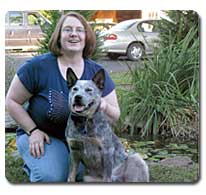 Kaye E. Ames – Owner and Trainer
Kaye Ames and DogWatch, the perfect combination for you and your pets!
As one of the area's premier trainers for over 40 years, I am confident in recommending DogWatch Hidden Fence Systems and DogWatch of Susquehanna Valley, Inc. Just as pet owners trust Kaye Ames School for Dogs to be a source of quality and effective training, I trust DogWatch to be a quality and effective pet containment system.

DogWatch's patented FM digital signal is unsurpassed in terms of clarity and security. This eliminates unintentional corrections associated with AM signals that many other brands use. The "Customer Care" training and support given by DogWatch of Susquehanna Valley is sure to make freedom a positive experience for you and your furry friends.

Kaye Ames School for Dogs prides itself on assisting pet owners in Lancaster County and surrounding areas with behavior modification as well as in-home and classroom training. If you have any questions concerning your containment system, feel free to call DogWatch. If you have questions about your beloved pet, please call Kaye Ames School for Dogs.
Creating Lasting Relationships Between Dogs and their People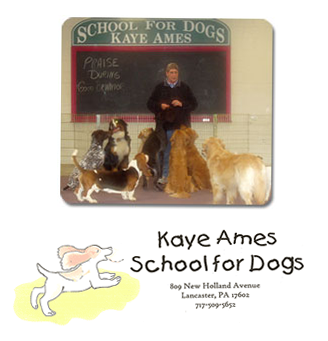 Jessey H.
Thanks again for all the professional and prompt customer service!
It's been over 3 years with my fence and its been GREAT . I even have the Skedaddles in the house by the cat food and litter boxes. Works GREAT. Its something the dogs learn very quick and its very safe and effective. My dogs don't mind wearing the collars. If I take them off for a bath and then say COLLARS they come to get them back on.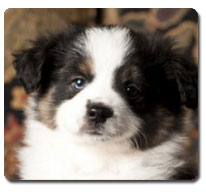 Kim – Lancaster, PA
I've been using the Dog Watch Hidden Fence Systems since June, 2008.  My veterinarian recommended Dog Watch to me.  I have a system at my front door; it has worked wonders.  My cat Ben (white/orange cat) would make a dash for the door every time it opened.  Now he stays a few feet away to greet us when we come home and we can leave without trouble.  Amir (the dark colored cat) would open the sliding screen doors on the back porch and get out.  I also have the system at the porch doors and it has solved that problem.
The cats don't mind wearing the receivers.  Now Dog Watch has receivers that are smaller than the ones in these photos.  I upgraded my calico cat Molly's receiver to the smaller version because she is more petite than her brothers.
I can't say enough about Dog Watch Hidden Fence Systems.  They keep my cats safe and save me from a lot of worry.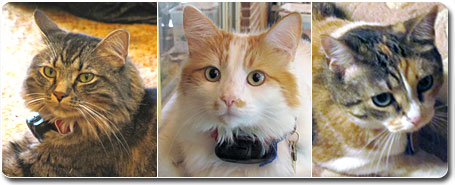 Todd – Palmyra, PA
I just want to start off by saying thank you so much for repairing and upgrading our dog fence. You really went out of your way to provide the best customer service I have seen in a long time. If you remember I called your office around three weeks ago to repair an invisible dog fence that was cut by a contractor. Not only did you did you come out within two hours of my initial phone call you repaired three broken wires supposedly repaired by the contractor but you also upgraded our system to your Dogwatch System and we are very happy, the technician you sent out was a truly a friendly, professional that I trusted from the start. Hats off to you and your staff for a job well done and I will recommend you to everyone I know. Thanks again for going above and beyond!!!
Jenny – Narvon, PA.
From a Happy Customer

Wanted to let you know Meshak is doing really well with the fence. Just last week a cat was running through the back yard and he went full force until he got to the back of the yard and came to a screeching halt...literally. It was pretty funny to watch. Just thought I'd share some pictures of him "chilling out" in the yard.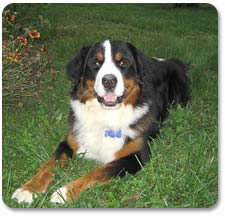 Bob and Naomi – Ephrata, PA
Freedom to Run

A yellow lab we named Molly joined our household when she was a 7-week old puppy. She was very energetic and needed room to run and exercise. We couldn't trust her to stay on our property so when she was 7 months old we contacted Bob Leed and arranged for a DogWatch Hidden Fence System to be installed around our property.

With the aid of white flags Molly soon learned where her safe zone was and did not hesitate to run around the house. About a week after the fence was installed a car came up the driveway, turned around and drove back down the driveway. Molly ran after the car and forgot about the fence. When she got to the fence she received a correction and turned back with out crossing the fence. She was 7 months old when that occurred. She is now 14 months old and has never crossed the fence since the incident with the car.

Now when I throw a tennis ball too close to the line she refuses to go pick it up. When a friend brings a dog to play with Molly if the dog crosses the line Molly stops short of the line and waits until the dog comes on her side of the line.

The DogWatch Fence System allows Molly to run hard and burn up energy and we do not need to be concerned that she will leave our property. This is an excellent system that really does work. Molly is a happy dog and we have peace of mind that she will not run to the neighbors and cause problems.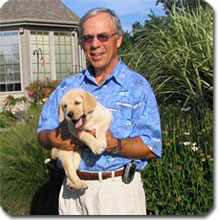 Andi – Glen Rock
Thank you Bob and Lynn!!

I can't say enough about my "Dogwatch" system. It's such a pleasure just to be able to open the door and let my boys out without having to leash everyone up and with four dogs that sometimes can be a chore. They love the freedom of running and playing in the yard. The best part of having a "Dogwatch" system is it's maintenance free. No painting or repairing of any fence. "Dogwatch" has an excellent customer service and that is very important to me. I know if I ever have a problem or just a simple question all I have to do is pick up the phone and call. They have always been very helpful! I must say "I have four very happy dogs" because of my "Dogwatch" system.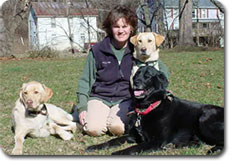 Sandy – York
I just wanted to let you and your company know how wonderful your system has worked for our 5 month old Fox hound. After the first 5 days we didn't even need to take her out on a leash. She is a hunting breed that loves to follow her nose, (her grandfather was the Grand national Champion Fox Hounds so she has his NOSE)! and hunt so we weren't sure how it would work for our Lucy. Well, we are quite pleased with the system and feel secure in letting her out to play in the snow. Thank you for having a product that keeps a member of our little family safe and not bothersome to our neighbors, and may I add that the installation was very timely. Thank you!
Lori – Litiz
We are very pleased with the service we've received from Dogwatch, Bob and his staff. We had originally contracted another invisible fence company to install our indoor and outdoor systems for our new home and they did not follow through to our specification. We contacted Dogwatch, at the recommendation of a neighbor, and they got us switched to their system and up and running quickly and efficiently. We like the fact that we can adjust the correction our dog receives ourselves where as the other company required a home visit and charge to adjust the collar intensity. Dogwatch provided us with 5 years' worth of batteries for the collar where the other invisible fence company preferred to send us the battery on a 3 month basis which in our case did not happen. Our dog responded well to Bob at Dogwatch and his training methods. Dogwatch is dedicated to working with you to make sure your dog is properly trained and the system is performing as promised.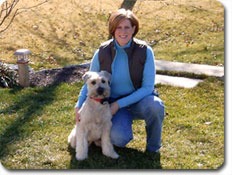 The Pieters & Capt. Jack Sparrow
We love our dogwatch system almost as much as we love Jack! Thanks!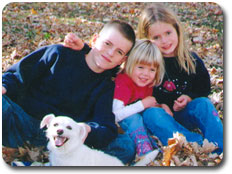 Lisa – Pequea
I had a problem with PetSafe and called Bob. He was very helpful coming (out) even though I wasn't a customer yet. I really like this system better.
Laurie – Stevens
Yesterday my husband and son stopped at the office to pick up a replacement receiver for Bailey. I have been so happy with your service. I told my husband before we called about the broken receiver that I would not really even mind if it was not under warranty anymore, because the DogWatch system is probably the only thing we have purchased in the past couple of years that does what it says it will do, and has never caused any problem or concern! Of course, we are also delighted that it is under warranty, and that just makes it all even better. Whenever we have called with a question, you and Lynne have been great, and never using any sales pressure. I just thought you should know that your work is appreciated.
Virginia – Shrewsbury
For my friends at Dogwatch, Lynne and Bob Leed

I can't tell you how happy I have been with the outdoor system you installed for me in May of 2004. Knowing my "golden kids" are protected and contained give me great peace of mind. Prior to installing the fence I had some moments of panic when my escape artists would either dig out or climb over my existing fence. I was fortunate that neighbors, as well as UPS and FedEx delivery people, knew I bred Champion golden's, for on several occasions they were kind enough to return them to me!!! Keep up the good work and excellent service and thank you for making my life easier.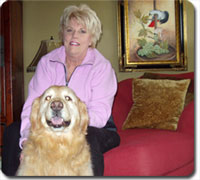 Kathy – Mount Wolf
Our family has felt so secure with the DogWatch Hidden Fence. It has always kept our Bernese Mt. dog inside our 1 acre of land and strangers on the outside of our property. Our dog has never gone through the fence, even when other dogs come near our property, because Bob did an excellent job in teaching him his boundaries. During these past 18 months, it has give us great relief, to know that Bernie will never leave our property under any condition.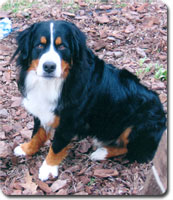 Alida and Ken – Lancaster
Everything is going well so far! Tia loves birds, squirrels & rabbits. Not mention the pugs behind us and the Airedales beside us, but she never goes beyond "the fence zone".
She's gone to two manners classes at Kay Ames' and is learning fast. Between the fence and the classes, we think she's going to be the best doggone dog ever!
John & Missy – New Freedom
I wanted to let you know what a great product and service you provide. It's been 14 months since you installed our fence for Maggie & Tanner. It's nice knowing I can let them out and they'll never run off again.

Each time I have called with a question you and your staff, have always been helpful. Even when lighting struck and back feed thru the fence, you were right out to fix it.

I recommend you guys all the time. Thanks for providing such great service.
Charlie & Suellen Miller – Dover
It's been almost two years since "The Boys" got their E-Collars. As you can see in the photo, they are proudly showing them off and letting you know that they are happy to have limits put on their wandering too far from home. With 4-5 acres to explore they are very satisfied with the area they have to roam.
DogWatch has been a life saver for us. As responsible pet owners, we like to keep our pets from trespassing onto our neighbors' properties (sorry we can't say the same of our neighbors!) or going out towards the road and because we live in an area that is heavily infected with ticks, it keeps them out of the tall grasses and fields. Feel free to use us as a reference anytime. In less than a week they knew their boundaries. Rabbits, deer and other dogs have tempted them to cross the line - they know better.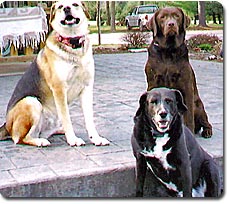 Miranda – Spring Grove, PA
Thank you!
You installed our fence for our Siberian Husky, Jasmine a couple of months ago, and I wanted to tell you that we were/are extremely pleased with everything. I am not sure what the name of the person was who installed it but he was extremely friendly and helpful. Jasmine was basically trained just after the first day! A couple times of getting 'zapped' and you couldn't even drag her anywhere close to the flags again. I can tell she is much happier now not being kenneled up or on a leash all the time.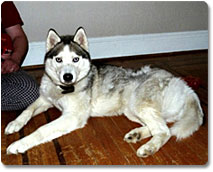 Margaret – Spring Grove, PA
DogWatch has changed our lives. We have had the system for about two years and have never had any problems with it. My son recently broke the line while working in the yard. I called DogWatch. They were quick to come and fix it. I didn't realize until this how much it had changed our lives and how much peace of mind we have knowing that the system is keeping our dogs safe and secure in our yard. Our dogs love to go in and out all day. So it's also a big time-saver!
Angela and Dennis
Bob, Thanks so much for the excellent service that you and your wife gave us this week. Your fence has been so wonderful in keeping our dogs safe and giving us peace of mind.

You have lived up to the recommendation that Anne & Patrick gave us 6 years ago when we were moving t o this property and trying to decide what to do about the dogs. Wish you success and prosperity!
Jim & Tanya & Sandy & Charlie – Rising Sun, Maryland
Thanks so much!
My wife, dogs and I have been Dogwatch customers for about 10 years. We have always been satisfied with the product and the results it produced. Recently we were turned to Bob and Lynne of Susquehanna Valley Dogwatch when some repair service was needed. I spent many hours of my own time trying to find a break and finally decided to simply "call the guy". I did, they scheduled an appointment for the very next day. Bob arrived on time (early actually which is even better) and drove a van with a picture of my dog on it. He says it was his dog, but there was no use in arguing ;-). He came and went in under an hour having found/fixed our break in the line and having enjoyable conversation about a little of everything.

Service was perfect and the price was extremely reasonable. I have no problem saying this was without a doubt the most enjoyable and positive customer service experience I have had in a long time.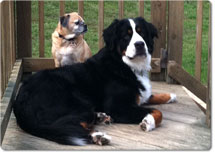 Dottie and Peter
Thank you for your help!
We wanted to let you know that we wish your system was in our yard years ago. It is the best! The dogs even seem to like it much better. They are calmer and less agitated they also have more room to roam with this system. I never did hear back from the other place after I e-mailed them complaining about there batteries.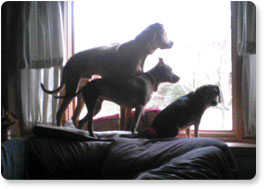 Charlie and Roxanne – Leola, PA
Thanks again for the great product!
We were skeptical about installing a hidden fence system, but are sure glad we did! When Bob came to our house after meeting with the competitors, the level of service Bob offered was like night and day. The training that Dogwatch offers was the big selling point for us.

We have a very active Yellow Lab named Maddie, and she loves the freedom our Dogwatch system gives her. We have a lot of squirrels and rabbits running in the yard, but once they cross the "fence" Maddie stops and runs along her boundary.

As you can see in her picture the Dogwatch system works, even in the snow.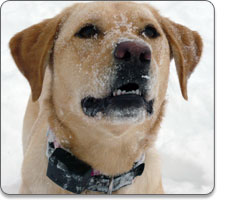 The Butlers and Mack – Cecil County, Maryland
I just wanted to thank you for installing the dog fence. It literally has made everyone's life so much easier and so much more stress free.  Mack is happy he can run free and we are happy that we don't have to worry about something bad happening to him. In turn, I personally feel like I have a much better relationship with Mack. I'm not always yelling at him or for him. This truly was a great investment and I will be sure to pass your information onto anyone that is looking to get a dog fence. 
Stephane – Lancaster, PA
We had our inground fence service through another provider and have become dissatisfied with their customer service and pricing so we decided to switch providers. DogWatch of Susquehanna Valley, Inc. was able to tie into our existing line and lay a new line in one of our flower beds. They have been a pleasure to work with. When they arrived today we discussed our outside needs and discussed each of the internal device options that meet our needs as well. Excellent customer service and the system itself is easy and maintenance free. The ability to change the settings on our own is very appealing. Our previous provider charged a service call fee to make any adjustments. We highly recommend DogWatch of Susquehanna Valley, Inc. you won't be disappointed.
Tell Us Your DogWatch Story!
We'd love to hear from you, too! Please consider filling out our customer feedback survey to tell us about your experience with DogWatch.