DogWatch of Susquehanna Valley
It's all about your dog!
DogWatch Hidden Fence of the Susquehanna ValleyDogWatch of Susquehanna Valley, Inc. was established in 1991 and is located in Lancaster County, Pa. Owners Bob Leed and his wife Lynne enjoy working together to train and contain thousands of dogs and cats. Their family includes son Andrew and daughter Tiffany. Furry family members are Hoops the Bernese Mountain Dog, Rocco and Mazi both toy poodles, as well as Kitter, a huge lovey Rag Doll feline. Their dogs, weighing from 4 to 110 pounds all share a DogWatch hidden fence.

Being named Top Dogs in their profession, owners Bob and Lynne Leed pride themselves on providing outstanding customer service and have a real love for the animals they help contain. DogWatch Corporate invited the Leeds to Boston to assist in the compilation of A Best Practices Guide for other hidden fence dealerships to utilize. Bob and Lynne want to build lasting relationships with their customers, providing obedience and behavioral help if needed as well.

Bob Leed of DogWatch of Susquehanna ValleyA customer equated Bob to Dr. Doolittle- saying he "speaks" with the animals. One customer even had their newly installed Invisible Fence brand system replaced with a DogWatch Hidden Fence brand because Bob, his company, and products came so highly recommended. After a system is installed, DogWatch of Susquehanna Valley offers unlimited training sessions insuring the success of the containment experience. Going to extra lengths for his customers and their pets makes Bob Leed and DogWatch of Susquehanna Valley "leaders of the pack".

Lynne enjoys obedience training and had a Bernese Mountain Dog that was a finished champion in the show ring. She likes helping clients with training and behavior issues. Lynne's perfectionism and attention to detail comes from her medical background and this helps their five county business operate smoothly. Lynne is quick to point out that although she and Bob work very hard, their awesome employees are a vital cog in the wheel of success.

In their free time Bob and Lynne enjoy their four grandchildren : Abigail,Trevor, Nicholas, & Anthony. Other pastimes are hiking, boating, & snowmobiling at their vacation home in the Adirondacks of New York. As avid sports fans they also enjoy following college football and basketball.

The Leeds realize that customers have many options for pet fencing. Bob and Lynne wholeheartedly believe DogWatch Hidden Fence Systems are the best choice. This belief is backed by the Consumer's Digest Best Buy rating. In addition DogWatch holds numerous exclusive patents on the newest and safest technology in the industry. This clearly "gives them a leg up" on the competition.
Service Area
We provide services to customers in the Susquehanna Valley area, including Cecil County, Maryland and Lancaster, Lebanon, York, Eastern Berks Counties in Pennsylvania, and the surrounding area.
Get a Free In-Yard Estimate!
Our representatives will meet you at your home for a free in-yard estimate. We will help assess your needs and customize a solution that suits both you and your pet. Call today or schedule an appointment to get things started!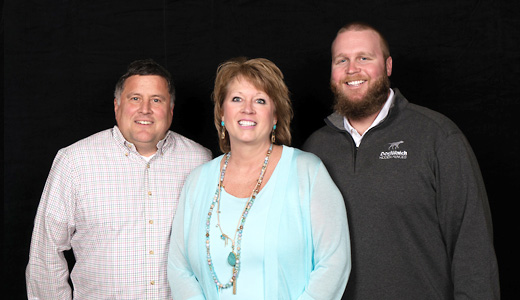 Why Choose DogWatch of Susquehanna Valley?
1. Our number one concern is the safety and well-being of your pet. We provide the support you need to ensure successful training and happy containment.
2. We provide a proven PetFriendly™ training program. We train your dog (or cat) to recognize the boundary flags and the audible warning signal (or vibration) before introducing the correction.
3. We are experienced professionals committed to providing excellent customer service and support. We strive to service every customer promptly and courteously.
We want to hear about your experience! Write us a review on Google+
Simply the best. No getting around it.™
Another reason to choose DogWatch of Susquehanna Valley is that we are an authorized DogWatch dealership. The DogWatch Hidden Fence is the most technologically advanced and the easiest to use, and it is backed up by a no-hassle Lifetime Warranty from a company with more than 25 years of keeping pets happy and safe.

What makes us Simply The Best?
---
Customer Testimonial
DogWatch offers superior technology - the newest in the industry, and at a reasonable price. Just as importantly, I receive prompt and excellent service from Bob and Lynne Leed at Dogwatch of Susquehanna Valley.



Dr. Andrew S. – Neffsville Veterinary Clinic